Fans Are Not Happy With Megan Fox's 'Instagram Face' After Reported Plastic Surgery: 'Now She Just Looks Like Everyone Else'
We've kept a close eye on Megan Fox's beauty transformation throughout her career. And although she was undoubtedly a natural beauty in some of her earliest on-screen appearances such as Mary-Kate and Ashley Olsen's 2001 movie, Holiday in the Sun, the drastic change in her appearance when she moved to big Hollywood blockbusters such as Transformers, and more recent music videos such as fiancé Machine Gun Kelly's "Bloody Valentine," not to mention countless Instagram posts and red carpet appearances, is hard to ignore! And her fans, in case it wasn't already obvious, are *not* happy!
Megan Fox Before And After Pictures
We love comparing older and newer pictures of celebrities, and love it even more when social media does all the hard work for us! The Instagram account @celebface posted some pictures of the 36-year-old Johnny and Clyde star from her fresh-faced appearance at the start of her Hollywood career in 2005, next to more recent ones, finishing off with 2022, and to say the difference is mind-blowing would be a huge understatement! We actually can't believe that this is the same person!
Has Megan Fox Had Cosmetic Surgery?
The subject of cosmetic surgery can be regarded as taboo for so many celebs, and the Hope and Faith alum is no exception. More on this, later! Although the Till Death actress has never come out and confirmed whether she has had any plastic surgery (like Khloé Kardashian did when she admitted to getting a nose job!) Megan's fans have almost done it for her with their constant speculation online. The comments section to the @celebface Instagram post from November 8th was *full* of thoughts, and if we are to listen to just some of the comments, Megan having cosmetic surgery seems like a no brainer! (Although of course, nothing is confirmed, and everything we discuss here is speculation!)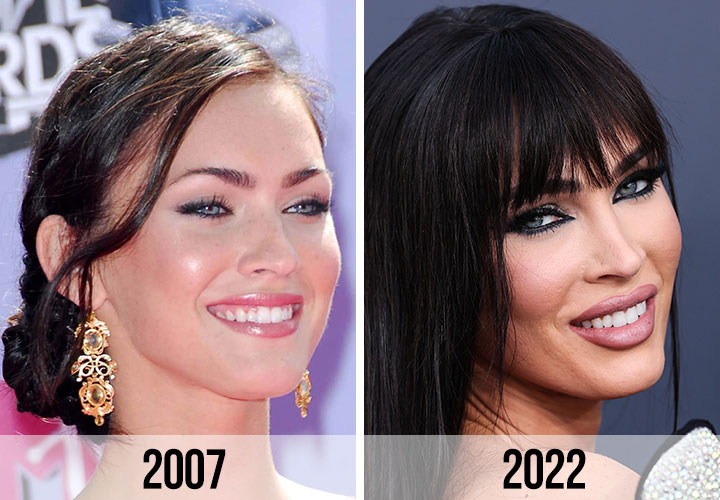 Fans Disapprove Of Megan's Transformation
"Everyone looks too similar now," one disapproving fan wrote in the comments section, in reference to her transformation. "She's always been beautiful and still is but now her face is like any other Kardashian lookalike," wrote another. "All the same procedures to look like an insta-dashian clone like the rest. Losing all individuality," said another. "She was beautiful but just looks like a caricature now," another fan said. "She was so pretty and now she just looks like everyone else. I'm tired of this," added another, while another wanted to remind other fans that getting older could have a part to play in the change in her appearance too.
"While she's absolutely continued to tweak her face (and body) and has started to go a little too 'Instagram face' for my personal taste, people do have to remember that 2008 Megan was nearly 15 years ago and it's always going to be hard to compare to that," one fan commented. "I do wish she would stop trying to fit into the 'Kim k/ influencer' mould, though. She's a beautiful, iconic woman that is actually making herself appear more basic with all of the FaceApp and filler etc." Another fan didn't blame Megan, but actually blamed society, writing: "Imagine being literally a beauty icon and have one of the most beautiful faces and STILL get work done. Society just won't let women exist as they are." "From true beauty to plastic Barbie… sad!" another fan added.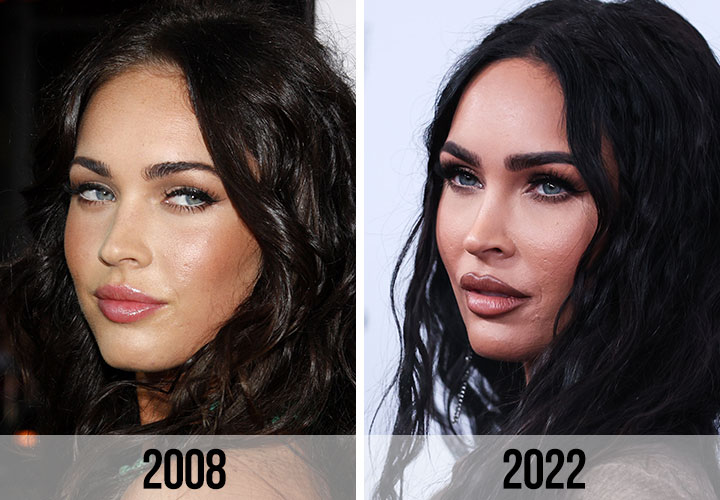 Has Megan Fox Had A Nose Job?
Fans kept speculating what work the Teenage Mutant Ninja Turtles star may or may not have had, including alleged rhinoplasty, fillers, a face lift, the list goes on. "3 noses later," quipped one fan in the comments section. "I love her original nose so much," wrote another, followed by a crying emoji, in reference to her slimmer, more refined nose that suggests she may have had a nose job.
Has Megan Fox Had Fillers?
The internet seems to be in unanimous agreement that Megan has been getting Botox and fillers for quite some time now, and her fans regularly voice their concern and disapproval. "It's always always always the upper lip. Stop getting upper lip filler! Her lips were perfect," one fan pleaded, in reference to the speculation that she had lip fillers to make them appear plumper and more voluminous. "What happened to her lips?" one fan asked. "Whether or not she has filler as others are saying, it's overlined. Overlining lips has been a bit trendy," one fan replied.
As well as fillers, the subject of a face lift was also discussed in the comments section. "Your face slims down when u get older and sags, so she probably got a lift. Hence the 'all celebrities look the same Kim K look'. Because everyone has gotten older and they've all gotten the same type of face lift/filler combo," one fan speculated. "Her face is too chiseled now. It's edging on manly. Her face before was gorgeous," another fan wrote.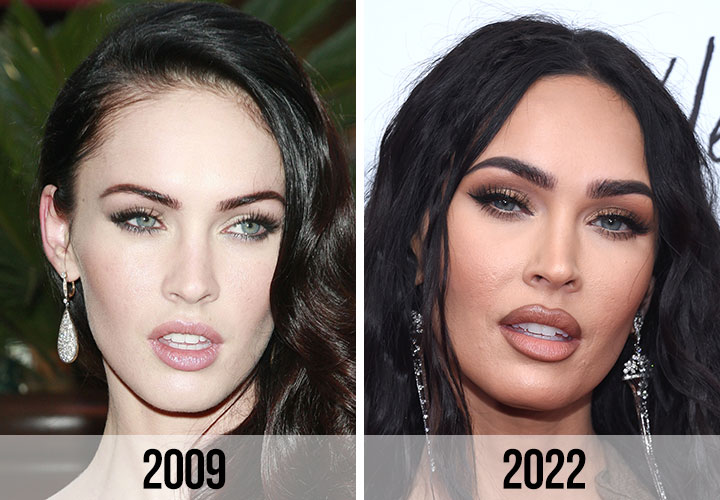 What Has Megan Fox Said About Plastic Surgery?
Back in 2010, the Jennifer's Body actress confirmed to Allure that she had not had any work done to her lips, stating, "you can clearly see that my lips are my lips," but fans aren't convinced that this is still true in this present day. "I would encourage anyone to first speak with a therapist, to try and figure out where this want comes from because a lot of times it's not related to your teeth or your nose or your chin," she told the mag at the time. "The surgery is not going to alleviate that insecurity for you. If, then, you feel, 'This is something that I want to do,' then do it. It's amazing that we have the technology to do the stuff that we do."
It's interesting that Megan mentioned teeth, as she appears to have had porcelain veneers fitted to give her that highly-sought-after perfectly symmetrical Hollywood smile. Although if we're being honest, her natural smile was pretty great to start with!
What The Experts Say
We can speculate all day and all night (which we very often do!) but we love hearing from industry professionals too, as they have a whole field of knowledge that us regular folk don't. Earlier this year, Holistic Plastic Surgeon Dr. Anthony Youn shared his expert opinion on YouTube and compared pictures of her when she was just 17 years old to the present day.
In Youn's opinion, Megan could have had Botox to change the appearance of her eyebrows, and filler in her lips from as early as 21 years of age. In 2008, when she was 22 years old, he speculated that she could have had rhinoplasty as her nose looked more refined already. In 2010, Youn speculated that Megan had Botox and filler injected under her cheeks, as well as in her lips. He also speculated that she could have had buccal fat removal shortly afterwards, as well as a chin augmentation via a silicone chin implant to make it appear more angular.
Comparing a picture of Megan at the 2021 VMAs, Youn thought that she could have had an endoscopic brow lift as her eyebrows appear to be more lifted and more arched than they were just a few years prior. Also speaking of her eyes, Youn addressed their much more "squinty" appearance, which he said could be down to what is known as fox eye (how apt!) or cat eye surgery, which involves taking the corners of the eyelids and moving them further up to give off the slanted cat eye appearance. He also speculated that she could have had a second rhinoplasty, as her nose appears to be shorter and even more refined than it was in previous years. Her extremely smooth and wrinkle-free appearance, Youn says, is a sign that she is undergoing regular Botox treatments and having fillers to maintain her flawless face, and also credited top skincare such as chemical peels and laser treatments, among other things.