Kate Upton Wardrobe Malfunction on The Other Woman film set
The hottest supermodel of the moment ran into a little bit of trouble on the set of 'The Other Woman.'
Wardrobe malfunctions happen to the best of us! Whoops! Kate Upton, 20, looks like she's celebrating her upcoming birthday a little early while jumping up and down on the set of The Other Woman in West Hampton, Long Island on June 6.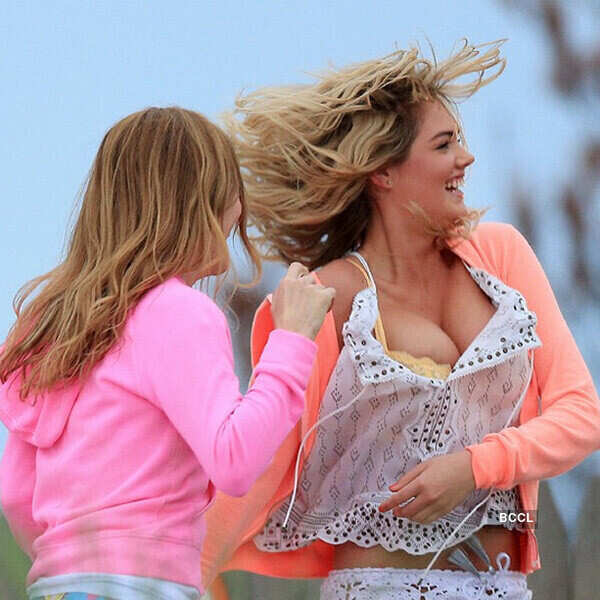 When the director told the supermodel to "bust a move," she did just that, and busted out of her top, too! Co-star Leslie Mann doesn't look like she noticed but the camera catches all — and we're sure Kate's fans didn't mind.
In a pair of short, crochet shorts, a matching peasant top and a sherbet zip-up jacket, Kate got down on the set of the new movie The Other Woman, which will be released in 2014.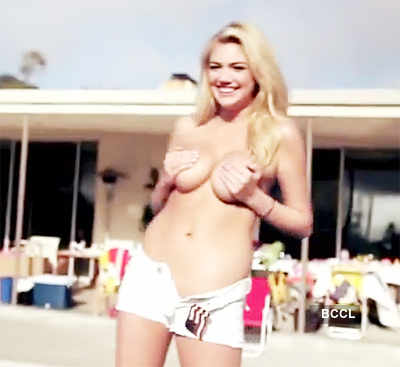 The well-endowed model was already b*sting out of her light yellow b'ra before she started jumping up and down for a scene, so when she did, things got a little crazy!
The peasant top was loose and featured a deep V-cut in the front — and her thin spaghetti straps didn't do much to offer support to the busty model! It's clear the intentions were to show off Kate's a**ts but we don't think she was planning on showing that much!
Regardless of her wardrobe malfunction Kate still looked great. When the jumping ceased she casually fixed her jacket and only traces of her ch*st and bra were visible from beneath her top. Hey, what's a big-chested girl to do in this situation? If you've got it, flaunt it, right?
Wardrobe malfunctions can be embarrassing but they happen to even the classiest of celebs. Sometimes you just can't keep everything under wraps! Kate handled her malfunction well and it's clear it wasn't intentional, a la Janet Jackson at the Super Bowl in 2004.