Megan Fox makes a major case for hip cutouts
Megan Fox has a pretty distinctive fashion sense. Whether she's wearing an orange micro bikini on Instagram or a see-through corset on the red carpet, her style evolution through the years is one for the ages. One thing we love about her is her high-drama, vampy, glam.
As a modern-day bombshell, she's always rocking fits that basically have our jaws on the floor, matching cutout or skin-tight dresses with long, loose tresses (except for, you know, when she went short(er) for the Grammys).
And her latest outfit is no exception. Taking to Instagram, Megan shared snaps of herself in a pretty banal setting of a bathroom but her ensemble totally blew us away. The look in question was a bustier top with an extreme (and we mean extreme) plunging neckline that went right down to her navel and featured some further cutouts, accentuated by buckle detailing.
She was also wearing some matching trousers which featured hip cutouts, a long necklace and dangling cross earrings with her hair pulled into a half updo. At the time of writing there was almost 1.5 million likes on this epic outfit pic but the comments aren't discussing the fashion on display.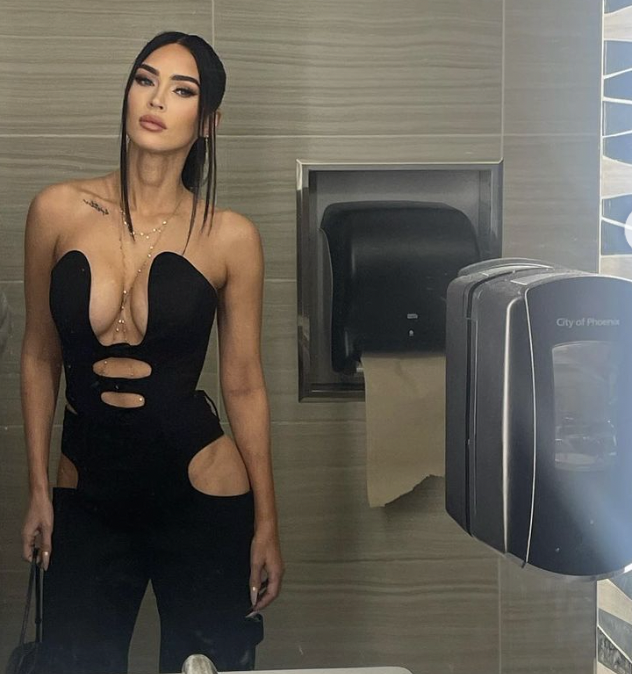 Specifically, the carousel of images Megan posted featured a video of a letter and other items being burned and has the caption cryptic caption "You can taste the dishonesty/ it's all over your breath." As a result of all of this, and the fact that Megan unfollowed MGK and followed Eminem, fans in the comments were speculating that the couple have broken up. However, Megan Fox seems to have since deactivated her Instagram, so you'll have to take our word for it.
We're hoping that's not true – *especially* as the two were just seen at Drake's Super Bowl party together, where Megan was seen wearing this very same 'fit.